Get ready to revisit Koholint Island later this year and also make your own dungeons (sort of).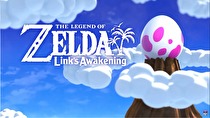 A dungeon maker headlined the footage of The Legend of Zelda: Link's Awakening on Nintendo Switch, which is due out on September 20.
The dungeon maker involves collecting different rooms and organizing them as challenges you can complete. The rest of the footage during the Nintendo E3 Direct also showed off a lot more areas of the game, including dungeons, overworld puzzles, and more.
A special Link Amiibo will be sold along side the game when it releases with the same art style as seen in the Switch version of Link's Awakening. Additionally, a Dreamer Edition of the game will be sold which includes a Dreamer Art book featuring concept art from the remake, and the game.
More details will be shared during E3 2019 as the game is playable and will be shown during Treehouse Live.