There will be a test at the end, by the way.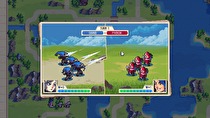 OK, so Dragon Marked for Death comes out this week, but what's the deal with it?
Let's see... there's two versions of the game coming out Thursday. Of the four playable characters, two are playable in the different versions and the other two can be bought as DLC. There's a physical edition coming March 26, and that has all four in it. Clear?
As mud. What else do we have?
Wargroove got announced last week unexpectedly, and that rad puzzle game Downwell is coming from Devolver. You might be familiar with Mages of Mystralta from Dan Adelman's involvement in the PR cycle. And for some reason, THQ is putting out Sphinx and the Cursed Mummy in HD when we really just want them to put out Saints Row The Third.
That's probably not the stupidest thing coming out this week.
Oh no, there's plenty of things I wanted to slap this week. Special dispensation to Japan, who have a game coming out in the same series as noted Banned in Boston game Monster Monpiece. At least they get a couple of follow-ups to Steins;Gate, Fate/Extella Link, and the latest Atelier game.
North America
Switch Retail
Sphinx and the Cursed Mummy (US$29.99/C$37.79: Tuesday)
Switch eShop
Fishing Star World Tour ($29.99/$37.99: Wednesday)
Wargroove ($19.99/$24.99: Friday)
Tangledeep ($19.99/$24.99)
New Star Manager ($19.99/$24.99)
Bombfest ($19.99/$23.99)
Halcyon 6: Starbase Commander ($19.99/$22.99)
Farm Together ($19.99/$22.79: Friday)
Mages of Mystralta ($19.99/$21.99: Tuesday)
Thea: The Awakening ($17.99/$22.99: Friday)
Airheart - Tales of Broken Wings ($17.99/$22.49)
Eggggg - The Platform Puker ($14.99/$19.99)
Zombie Night Terror ($14.99/$18.99)
Robothorium ($14.99/$18.99)
Dragon Marked for Death ($14.99/$18.89 ea)
Unworthy ($12.69/$14.79: Tuesday)
Piczle Colors ($12.00/$15.00)
Paladin ($9.99/$12.99: Tuesday)
planetarian ($9.99/$12.59)
Merchants of Kaidan ($9.99/$11.99)
Ancient Rush 2 ($9.99/$11.99: Friday)
Necrosphere Deluxe ($7.99/$10.99)
Gabbuchi ($7.99/$10.07)
Agartha-S ($7.99/$10.07)
Freecell Battle King ($7.99/$10.07)
Shanky: The Vegan's Nightmare ($6.99/$9.99: Friday)
Solitaire Klondike Black ($5.00/$6.30)
Spoiler Alert ($4.99/$6.99: Friday)
Bleep Bloop ($3.39/$4.25)
Downwell ($2.99/$3.77)
Drowning ($2.99/$3.77: Wednesday)
Stray Cat Doors ($2.59/$3.49)
Hyperide ($1.99/$2.51: Wednesday)
Chrono Clash: Fantasy Tactics ($0.99/not released: Monday)
Onigiri (free: Wednesday)
Switch Archives
Moon Cresta ($7.99/$9.87)
Sales and Price Drops
Highlights: The Nicalis sale ends Sunday, Mutant Football League is on sale until February 5. Spreadsheet
Europe
Switch Retail
Dragons Dawn of New Riders (€39.99/£34.99: Friday)
Switch eShop
Sphinx and the Cursed Mummy (€29.99/£26.99: Tuesday)
Fishing Star World Tour (€24.99/£22.49: Wednesday)
Mages of Mystralta (€19.99/£17.99: Tuesday)
Farm Together (€19.99/£17.99: Friday)
Thea: The Awakening (€17.99/£15.99: Friday)
Bombfest (€17.49/£15.79)
Wargroove (€16.99/£15.99: Friday)
Halcyon 6: Starbase Commander (€16.99/£14.99)
New Star Manager (€16.99/£14.99)
Robothorium (€14.99/£13.99)
Dragon Marked for Death (€14.99/£13.49 ea)
Zombie Night Terror (€14.99/£13.49)
Eggggg - The Platform Puker (€14.99/£12.99)
Airheart - Tales of Broken Wings (€14.99/£11.99)
Piczle Colors (€12.00/£10.00)
planetarian (€9.99/£8.99)
Necrosphere Deluxe (€7.99/£6.49)
Gabbuchi (€6.99/£6.29)
Shanky: The Vegan's Nightmare (€5.99/£5.39: Friday)
Toridama: Brave Challenge (€5.09/£4.59)
Spoiler Alert (€4.99/£4.99: Friday)
Bleep Bloop (€3.99/£3.99)
Drowning (€2.99/£2.69: Wednesday)
Downwell (€2.99/£2.69)
Stray Cat Doors (€2.27/£2.04)
Hyperide (€1.99/£1.79: Wednesday)
Onigiri (free: Wednesday)
Switch Archives
Johnny Turbo's Arcade: Two Crude Dudes (€7.99/£7.10)
Moon Cresta (€6.99/£6.29)
Japan
Fate/Extella: Link (¥8618)
Nelke & the Legendary Alchemists: Ateliers of the New World (¥8424)
Robotics;Notes Dash (¥7560)
Robotics;Notes Elite (¥6480)
Moero Chronicle H (¥4000)
Fishing Star World Tour (¥2680)
Mages of Mystralta (¥2480)
Dynamite Fishing: World Games (¥1980)
YIIK (¥1980)
Tangledeep (¥1980)
Dragon Marked for Death Basic/Expert Set (¥1960 ea)
Piczle Colors (¥1200)
planetarian (¥1100)
Heroes Trials (¥980)
Necrosphere Deluxe (¥890)
Moon Cresta (¥823)
Gabbuchi (¥800)
Ping Pong Trick Shot Evolution (¥500)
Downwell (¥500)
Stray Cat Doors (¥300)
Onigiri (free)