How about a nice bombshell for your Friday morning.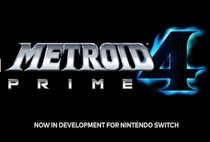 Metroid Prime 4 is headed back to the drawing board.
Nintendo's senior managing Executive Officer Shinya Takahashi has made the announcement on Nintendo's video channels that due to difficulties with the project, Metroid Prime 4 has reset development. Series producer Kensuke Tanabe will be working with Retro Studios, who developed prior Metroid Prime titles in a previous incarnation, to create the game.
Previous Nintendo release lists have listed the game as a "TBA" release; there is no new timeline for Prime 4's release.