Spot the most cathartic game of the week and win a No-Prize (tm).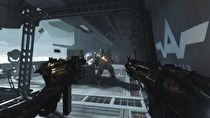 Sometimes, you just need to unload on Nazis to feel alive. That's the big one this week, as Wolfenstein II: The New Colossus lands on Switch thanks to the geniuses at Panic Button and with the help of Bethesda. But it's a big week for the card set, as there's five (or six, in Europe) retail games. Ys VIII, the Crash Bandicoot N-Sane Trilogy if you feel like screaming at Nintendo instead, and lost Wii classic de Blob are all headed to (or have already arrived on) Switch.
On the download front lies Lumines Remastered (but I've said enough about this game, methinks) alongside the creepy duo of Limbo and Inside. Galak-Z: Variant S was also supposed to launch today according to GungHo, but we haven't gotten pricing for it yet. The Archives roll out the big money this week with Money (Puzzle/Idol) Exchanger for the brainy sort, and Renegade for the brawling sort. For the record, Renegade was contemperaneous to Double Dragon.
Europe's additional card title is the latest Harvest Moon title, while Japan gets a creepy adventure and plays a lot of catchup otherwise.
North America
Switch Retail
Wolfenstein II: The New Colossus (US$59.99/C$79.99: Friday)
Ys VIII: Lacrimosa of Dana ($59.99/$79.99: Friday)
Crash Bandicoot: N-Sane Trilogy ($39.99/$54.99: Friday)
MotoGP 18 ($39.99/$49.99)
de Blob ($29.99/$37.79: Tuesday)
Switch eShop
Inside ($19.99/$25.19)
The Journey Down (Chapter 2) ($19.99/$25.19)
Anima: Gate of Memories ($19.99/$24.99: Friday)
Grave Danger ($19.99/$23.99)
Fossil Hunters ($16.99/$19.99)
Figment ($15.99/$19.99)
Air Mail ($14.99/$18.99: Tuesday)
Angels of Death ($14.99/$18.89)
Survive! Mr. Cube ($14.99/$18.89)
Lumines Remastered ($14.99/$18:89: Tuesday)
No Heroes Here ($14.99/$18.89)
Photon Cube ($13.65/not releasing)
Limbo ($9.99/$12.59)
Dream Alone ($9.99/$12.59)
Cubikolor ($8.99/$11.03: Tuesday)
Paranautical Activity ($7.99/$10.07: Tuesday)
Waking Violet ($4.99/$5.99: Friday)
New 3DS eShop
I.F.O ($3.99/$5.03)
Switch Archives
Renegade ($7.99/$9.87)
Money Puzzle Exchanger ($7.99/$9.87)
Demos and Trials
Block-a-Pix Color
Sales and Price Drops
Highlights: Rogue Aces is on sale until July 8 (not advertised on the Nintendo.com sales list for some reason). Spreadsheet
Europe
Switch Retail
MotoGP 18 (€59.99/£49.99)
Wolfenstein II: The New Colossus (€59.99/£49.99: Friday)
Ys VIII: Lacrimosa of Dana (€59.99/£49.99: Friday)
Harvest Moon: Light of Hope (€39.99/£34.99: bundle with DLC available for additional €/£5.00)
Crash Bandicoot N-Sane Trilogy (€39.99/£34.99)
de Blob (€29.99/£26.99: Tuesday)
Switch eShop
Figment (€19.99/£17.99)
Inside (€19.99/£17.99)
The Journey Down (Chapter 2) (€19.99/£17.99)
Anima: Gate of Memories (€19.99/£17.99: Friday)
Anima: Gate of Memories - The Namless Chronicles (€19.99/£17.99: Friday, can buy bundle with both for €29.99/£26.99)
Grave Danger (€19.99/£17.99)
Lumines Remastered (€14.99/£13.49: Tuesday)
Survive! Mr. Cube (€14.99/£13.49)
Fossil Hunters (€14.99/£13.49)
Air Mail (€12.99/£12.00: Tuesday)
Angels of Death (€12.49/£11.29: Wednesday)
Photon Cube (€12/£10.79)
Limbo (€9.99/£8.99)
Dream Alone (€9.99/£8.99)
Cubikolor (€7.99/£7.2)
Paranautical Activity (€7.99/£7.19: Tuesday)
Waking Violet (€6.99/£5.99: Friday)
3DS eShop
Sanrio characters Picross (€6.99/£6.50)
I.F.O (€3.99/£3.59: New 3DS only)
Switch Archives
Renegade (€6.99/£6.29)
Money Puzzle Exchanger (€6.99/£6.29)
Demos and Trials
Hyper Sentinel
Fill-a-Pix: Phil's Epic Adventure
Block-a-Pix Colour (3DS)
Japan
Ys VIII: Lacrimosa of Dana (¥7538)
Shiin (¥4320)
Mantis Burn Racing (¥2000)
Inside (¥1980)
Lumines Remastered (¥1944)
Survive! Mr. Cube (¥1500)
Angels of Death (¥1500)
Burly Men At Sea (¥1000)
Serial Cleaner (¥1000)
Limbo (¥980)
Money Idol Exchanger (¥823)
Nekketsu Kouha Kunio-kun-kun (Renegade) (¥823)
Neonwall (¥800)
Midnight Deluxe (¥500)
The Mahjongg Lite (¥500)