Weird and exciting new ways to enjoy Nintendo Switch.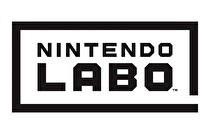 Nintendo has just announced Nintendo Labo, a new series of software, and cardboard accessories, coming to Nintendo Switch. Nintendo Labo kits combine do-it-yourself modular cardboard projects with special Nintendo Switch software to create items, or Toy-Con, that can be used or played with when combined with Nintendo Switch Hardware. Two kits are currently planned.
The first kit, the Variety Kit, can be used to create five different Toy-Con projects. Projects include two RC Cars, a Fishing Rod, a House, a Motorbike, and a Piano. The Variety Kit will retail for $69.99 and includes Nintendo Labo Kit Software for the Nintendo Switch.
The second kit, the Robot Kit, comes with everything needed to make a Toy-Con robot suit and the software to interact with it for Nintendo Switch. The Robot Kit will retail for $79.99.
And finally, a Customization Set that includes stickers, stencils, and special tape will be sold along side both sets for $9.99 assuring users that they can create unique looking Toy-Con that stand out and fit the users personality.
The Nintendo Labo projects which include the Variety Kit, the Robot Kit, and the Customization Set all launch on April 20th.