Jon thinks this title is real clever; I even resisted the urge to ask him about collector's edition cardboard.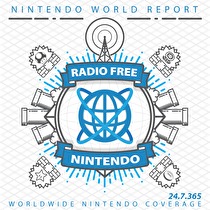 Subscribe via iTunes (Please rate and review, too!)
Everyone's eager to hear team RFN talk about Nintendo's new Cardboard Entertainment System, but you're going to have to wait till the second half of the show. James was late, so Greg takes over hosting New Business. Guillaume kicks off with LEGO Star Wars: The Complete Saga, from way back on the PS3. He then looks at Thimbleweed Park, the retro-style point-and-click from the creators of Maniac Mansion and other classics of the genre. Jon is trudging around in the mud in Gears of War 4, on his Xbox One X - The World's Most Powerful Console. Greg wraps-up both the game and New Business with his thoughts on Xenoblade Chronicles 2. James isn't around to meet him with a high five, but they might find time later to compare notes.
James retakes the wheel after the break, to talk Nintendo Labo - Nintendo's just-announced cardboard construction toys for Switch. Apparently, Greg had been promising James would bring enough hot fire to shame the Sun, but he misjudged James' love of construction toys. Who on the show is going to be filling their home with piles of cardboard? Jon, but that's just the packing material for cat helmets.
Next week we'll be announcing our plans for our contractually-obligated second WiiWare RetroActive. Thanks to the fine folk at the Nintendo Reddit, we have a list of WiiWare exclusive titles to reference. You can let us know which of these games are winners, or just ask us questions via the inbox.
This episode was edited by Guillaume Veillette. The "Men of Leisure" theme song was produced exclusively for Radio Free Nintendo by Perry Burkum. Hear more at Perry's SoundCloud. The Radio Free Nintendo logo was produced by Connor Strickland. See more of his work at his website.
This episode's ending music is requested by K-S-O: Sunshine Coastline, from Ys VIII: Lacrimosa of Dana. Composition by Falcom Sound Team jdk (Hayato Sonoda and Takahiro Unisuga). All rights reserved by Nihon Falcom Corp.