Brawl, slash, and... bomb?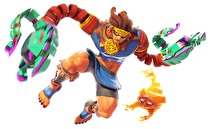 The Switch has gotten a mess of updates in addition to a packed new release schedule this week.
The previously announced updates for Pokkén Tournament DX (online team battles) and Fire Emblem Warriors (fixes, new weapons and a History Mode map) are now available. Additionally, ARMS has received its 4.0 update with the new character Misango and a new stage (the Jungle Grounds). Nintendo has provided some tips for handling the new character on the Treehouse's Tumblr page.
An update is available for Super Bomberman R that adds 3v3 play, a new chapter for story mode, and seven new playable characters.