Armor piercing and other quality of life improvements are reinforcing the musou.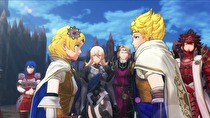 The paid DLC will come in December, but free updates to Fire Emblem Warriors will begin next week.
Coming to both the New 3DS and Switch next Thursday (November 16), the update will add a new weapon attribute that breaks armor and other in-battle Blessings. The ability to sell multiple weapons at once is also incoming.
Original characters Rowan and Lianna will be the character focus, with a new costume for each character as well as an additional History Mode map.