The launch trailer spills the beans.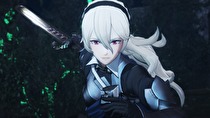 The season pass won't be the only downloadable content for Fire Emblem Warriors.
A launch trailer for the game released by Nintendo today showed that a Japanese-language voice track will be a free downloadable option beginning on launch day. The notice appears alongside both the Switch and New 3DS versions of the game as well as the Chrom and Tiki Amiibo.
The trailer also shows that each part of the season pass will have three new characters, three History Mode scenarios, new weapons/costumes and support conversations.