Yes, you too can get your Bridecina on.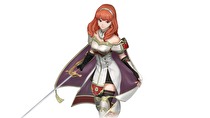 Following Koei Tecmo's TGS lead, Nintendo has outlined the pricing for North America and Europe's Fire Emblem Warriors season pass.
The pass will be US$19.99, C$25.79, €19.99 and £17.99, with individual packs checking in at $8.99 / $11.59 / €8.99 / £8.09 each, and the packs will drop in December, February and March for the Fates, "heavily inspired by Shadow Dragon" and Awakening packs respectively.
Switch and New 3DS versions will require separate season pass purchases; there is no option to get one pass for both as with Hyrule Warriors Legends last year.