Some old friends from Kalos are coming back - in a fashion.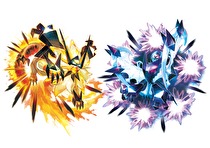 The latest Pokémon Ultra Sun and Moon trailer has revealed localized names for a couple of hot new moves.
The first half of the trailer focused on Necrozma and revealed three new moves. A new standard move for all forms is Photon Geyser, which deals damage based on the higher of Necrozma's Attack or Special Attack stats. Two new Z Moves - Searing Sunraze Smash (Dusk Mane Necrozma, Solgaleo) and Menacing Moonraze Maelstrom (Dawn Wings Necrozma, Lunala) that ignore enemy abilities were also revealed.
The Rotom Dex will also have a happiness tracker in Ultra Sun and Ultra Moon, with ingame powerups (not valid in competitive play) being made available. In addition to the ability to use Z-Moves more than once in a battle, Rotom will also give stat, experience, and money boosts as well as faster egg hatching in a fashion similar to the O-Powers of the sixth generation Pokémon titles.