The odd crossover of twin-stick shooter and roguelike.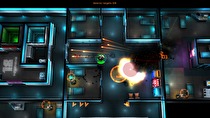 The deluge of indie games on Switch in recent weeks will continue next week with an odd hybrid.
Twin stick shooter/roguelike cross Neon Chrome will hit the Switch eShop next week for US$14.99 or equivalent. Environments will be fully destructible, and entire floors can be blown up in the course of the procedurally generated adventure.
Neon Chrome joins Yono and the Celestial Elephants, Tiny Barbarian DX and 88 Heroes among the titles hitting the Switch over the next week.