Plus new challenges, handicap matches and more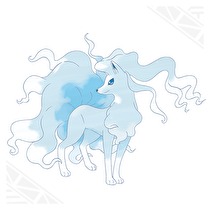 The latest Pokémon Sun and Moon trailer has confirmed major changes to the game, including new forms of classic Pokémon and the addition of high-power type exclusive attacks.
Among the old Pokémon shown to be receiving new forms with variant types are Exeggutor (Grass / Dragon), Vulpix and Ninetales (Ice, Ice/Fairy), and Sandshrew/Sandslash (Ice / Steel). Other Alola Form Pokémon may be announced at a later date.
Z-Moves are a new variety of move that can be activated once per battle and vary depending on the type of the Pokémon. Fire, Water, Electric, and Grass moves (Inferno Overdrive, Hydro Vortex, Gigavolt Havoc, and Doom Bloom) were revealed, as executed by Pikachu and the Alola starting Pokémon.
Some changes or additions are coming to the game's structure as well: each island has a specific trial ran by one of four characters, who also focus on different types (Fire, Water, Electric and Grass). Each Trial will end with a battle against a powerful Totem Pokémon, who can call for help to create 2-on-1 battles - a series first, outside of particular late game situations in existing double battles. The islands will also have a Kahuna; the previously revealed Hala will serve in this role for the starting island, Melemele. It isn't clear if this supplements or replaces the existing gym structure.
Finally, new Pokémon were revealed as well:
Oricorio is a dancing bird whose first type - all are dual-typed with flying - and style depend on the island where it is encountered. Baile style is Fire, Pom-Pom Electric, Pa'u is Psychic and Sensu Ghost. Its move Revelation Dance changes its type to match the style's, and its "Dancer" ability allows it to copy Dance moves such as Swords Dance and Quiver Dance.
Minior is a Rock/Flying type who has the new Shields Down ability, in which it reveals its core (in one of four colors) after receiving a certain amount of damage and lowers its defensive stats to become an attacker.
Gunshoos is the evolved form of Yungoos, and will serve as one of the Totem Pokémon.
Fomantis and Lurantis are a Grass-typed evolution family, with Leaf Guard as their ability. They learn a new move Solar Blade.
Mudbray is the colt form of Mudsdale, still a pure Ground type.