Spoilers: Team Cat carried to the win thanks to Louie.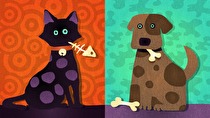 After some... ahem, tentacle difficulties... with matchmaking were resolved, the war of cats v dogs will blow up on July 4.
The first Splatfest event, originally scheduled for June 20 before some matchmaking issues necessitated a last-minute delay, will go down on Independence Day from 12 a.m. PT/3 a.m. ET and last until 12 a.m. PT / 3 a.m. ET on July 5.
During the Splatfest, the Turf Wars will take place at night, and all matches will feature teams formed of people who chose Cats or Dogs. Ranked matches (Splat Zones) will be unavailable during the duration of the event. The winning side will receive some Super Sea Snails based on performance that will allow for equipment modification.