Bring on the groupies and prepare to rock the night away once more.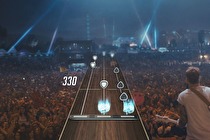 After a five-year hiatus, Guitar Hero will make its return this fall and the Wii U will get to jam along.
Guitar Hero Live will launch this fall for $99.99 with a new guitar that has two rows of buttons in black and white instead of the traditional five-button setup. Unfortunately, this new controller prevents old controllers, as well as old songs and DLC, from being used. The hook for Guitar Hero Live is that you play in the first-person with an FMV band and audience around you. If you play poorly, your bandmates will get angry and the crowd will riot. If you play well, you'll, hopefully, feel like a rock star.
The game is being developed by the Activision-owned company Freestyle Games, who previously worked on the DJ Hero franchise and the Wii U launch title Sing Party. The song list will include bands such as The Black Keys, Fall Out Boy, The Killers, The Rolling Stones, Skrillex, and Green Day. Full details on songs will be on the way in the future. Word is that Guitar Hero Live will have a large presence at E3 2015.