And a whole new update will add a 200CC mode as well.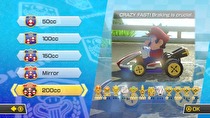 A new 200CC mode is coming to Mario Kart 8 alongside the new Animal Crossing-themed Mario Kart 8 DLC pack, which is due out on April 23. While the Animal Crossing pack will be $7.99 if you didn't buy the bundle last year, the new 200CC mode is a free update that adds more speed than ever before.
The Animal Crossing pack includes Dry Bowser, both male and female Villager, and Isabelle as racers. One of the new Animal Crossing tracks changes for different seasons and features new Animal Crossing music recorded live. Two of the new karts are called the City Tripper and the Streetle.
Additionally, more Amiibo figures will be supported to add costumes to your Mii, including Sonic, Pac-Man, Mega Man, Bowser, Rosalina, Olimar, Wario, Villager, and Toad.
The whole update is due out on April 23. To recap: Animal Crossing DLC pack will cost money. 200CC mode will not.