Indulge in some nostalgia-filled goodness with these classic Zelda skins.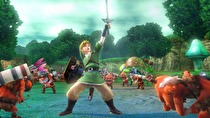 Hyrule Warriors' pre-order incentive costume packs are now available for purchase via the Wii U eShop.
A total of four packs are up on Nintendo's online store, three of which include costumes for both Link and Zelda: Ocarina of Time, Twilight Princess and Skyward Sword. The fourth pack, dubbed Demon King, provides an alternate skin for Ganondorf.
You can purchase each of these packs for 99 cents. Let us know which you plan to buy in the comments below!