Fans will be doing barrel rolls.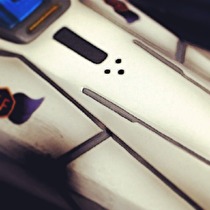 High-end figure manufacturer First 4 Figures has just released a teaser for an upcoming Star Fox line of figures.
Over the last few days, First 4 Figures has been releasing teaser images of upcoming products they plan to release in 2015. Today they showed off what is unmistakably an Arwing from Star Fox. Further investigation leads us to believe that this figure will be based on artwork from Star Fox 64 3D.
Additionally, the company promised that a figure from a new license would go up for pre-order on Dec. 30. There is no word yet if this figure will be from Star Fox or some other franchise the company has yet to release a product for.
Nintendo fans should be familiar with First 4 Figures as they have also released, or are planning to release, statues from the Zelda, Mario, Metroid, and Kirby series of games.