The pair of Nintendo games are part of a dozen games currently planned for Wii U in 2015.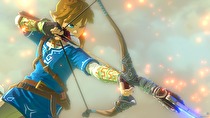 The Legend of Zelda and Star Fox Wii U games are still set for a 2015 release according to a Nintendo financial results briefing.
The pair of games, both highlighted most recently at E3 2014, are part of 12 Wii U games coming from Nintendo in 2015. The other games include four games set for release in the first half of 2015, including Mario Maker, Splatoon, Yoshi's Woolly World, and Project Giant Robot. See below for the full list.
Mario Maker - First Half of 2015
Project Giant Robot - First Half of 2015
Splatoon - First Half of 2015
Yoshi's Woolly World - First Half of 2015
Kirby and the Rainbow Curse - 2015
Mario Party 10 - 2015
Mario vs. Donkey Kong - 2015
Project Guard - 2015
Star Fox - 2015
Xenoblade Chronicles X - 2015
The Legend of Zelda - 2015
Devil's Third - 2015 (TBD in Japan)
Shin Megami Tensei X Fire Emblem - TBD
Also, Code Name S.T.E.A.M. and Fossil Fighters Frontier for 3DS were both reconfirmed for 2015.
Note: Even this author still raises an eyebrow about Zelda Wii U and Star Fox Wii U coming in 2015. How rad would that be, though?