Sakurai speaks the words you did not want to hear.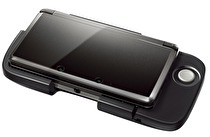 Super Smash Bros. for 3DS does not support the Circle Pad Pro due to hardware constraints, specifically, the amount of processing power the add-on requires.
Smash Bros. and Kid Icarus: Uprising director Masahiro Sakurai explained the problem in a recent issue of Famitsu magazine: "Supporting the Circle Pad Pro requires the use of some of the CPU's processing load." They found while developing Uprising that it took "around 5%" of the handheld system's processing power. Sakurai's recent explanation for omitting the Ice Climbers noted that his new game uses the 3DS to its maximum capabilities, meaning there is no room for a peripheral such as the Circle Pad Pro.
The New Nintendo 3DS (and XL) will support the use of the system's second joystick in Super Smash Bros. for 3DS, which is used in the same way as the Circle Pad Pro. However, the New 3DS also has a more powerful processor, so having it as a part of the system instead of as an add-on should not be a problem.