Take this Famicom game with you on the go!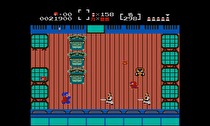 The Famicom classic The Mysterious Murasame Castle will be coming to the North American Virtual Console for Nintendo 3DS on August 7, according to Nintendo's live stream at San Diego Comic-Con.
The title will come to Nintendo 3DS eShop on August 7, though no price was released for the moment. Europe got the title at the end of May and has to pay currently €4.99/£4.49 for a copy, which is similar to other NES titles in the region.