Who wouldn't want to rush in with a gun-wielding raccoon?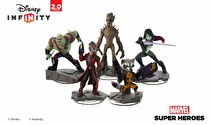 Guardians of the Galaxy will come to Disney Infinity 2.0: Marvel Superheroes this fall, joining The Avengers and Spider-Man Play Sets.
In this Play Set, players will explore and protect Knowhere while being pursued by Ronan the Accuser and his Sakaaran fleet after having stolen a powerful cosmic object from him. The story will be based on both the upcoming film and comic series.
Overall, the Play Set will feature five playable characters from the franchise: Star-Lord, Gamora, Rocket Raccoon, Drax and Groot. Iron Man and Nova will be able to crossover into Knowhere as well, bringing their own special missions with them. Other characters will pop up in small cameo roles or as mission givers such as Yondu, The Collector, and Cosmo. These Guardians characters will also he available, alongside fellow heroes, in a new structured Toy Box game called Attack on Asgard, fighting Loki and his frost giants in their attempt to ultimately take control of the Asgardian throne.
The Play Set pack will include Star-Lord and Gamora figures, and the crystal Play Set figurine features the movie's Milano Starship.
New themed Power Discs have also been announced:
Space Armor - Unlock Gamora's out of this world Space Armor costume for added protection against enemies. Who says fashion can't be functional too?
Marvel Team-Up: Yondu - Fight alongside this powerful, arrow shooting ally and send enemies running for their lives
Groot's Roots - Theme out your Toy Box world with Groot's Roots. It's sure to grow on you!
Groot's View - Embrace your inner green thumb and theme Toy Box skies out Groot-style
Star-Lord's Galaxy - Turn your Toy Box into Knowhere - Star-Lord's home base in the Galaxy
The Rip - Turn Toy Box skies into the skies of Knowhere with this Power Disc and transport yourself to the outer edge of all space and time
Check out the trailer and gallery below for a look at the Guardians in action!