A first look at the characters teased on the box art.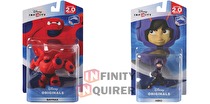 Pictures of Disney Infinity figurines for Hiro and Baymax, the two main characters from Disney's Big Hero 6 have been leaked. While these two characters were teased in the intro and on the box art for the Disney Originals side of 2.0, this is the first time photos of their actual figures have come to light.
Both figures feature Hiro and Baymax in their superhero armor from Disney's upcoming animated film, based on a Marvel comic of the same name. They will also be available for use in Toy Box mode only, as denoted by the icon on the packaging.
There is speculation that these characters might release alongside the other Disney Originals on November 4 due to the fact that the movie's release is a mere three days after. However, there has been no official announcement for these figures or their release date.