Own Famicom Remix? You can get a discount on the sequel!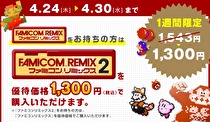 Gamers in Japan who own Famicom Remix on Wii U will be able to receive a discount from 1,543 yen to 1,300 yen for Famicom Remix 2 on the eShop between April 24 and April 30.
The sale works the other way around, too. For gamers that purchase Famicom Remix 2 in during the campaign and do not yet have a copy of Famicom Remix, they can then purchase the original game for 1,300 yen. The sale is currently exclusive to the Wii U eShop in Japan.
Famicom Remix 2, known as NES Remix 2 in the West, releases in Japan on April 24, and in North America, Europe and Australia on April 25. You can check out our latest preview for the game from Justin Berube here.