Even more retro goodness, with a twist, is on the way.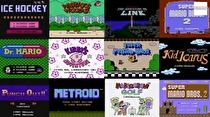 NES Remix 2 has been announced and will be released on the Wii U eShop on April 25 in North America and in Japan as Famicom Remix 2 on April 24.
NES Remix 2 will contain remixes and stages from multiple NES games including Ice Hockey, Wario's Woods, Zelda II, Super Mario Bros. 2, Dr. Mario, Kirby's Adventure, Super Mario Bros. 3, Kid Icarus, Punch-Out!!, Metroid, NES Open, and Super Mario Bros. 2: The Lost Levels.
Additionally, NES Remix 2 will include a special Super Luigi Bros. game. This game, starring Luigi, will let players enjoy the original Super Mario Bros. in reverse (going from right to left). Luigi will also come equipped with his signature high jump.
The game will also see a physical release in Japan. The package contains both the original Famicom Remix and Famicom Remix 2 and is set to come out on the release date for 2,858 yen. The stand alone game on the eShop will cost 1,429 yen.
This information comes from today's Nintendo Direct.