North Americans, and possibly Europeans, will need to go to retail stores to get their parties started.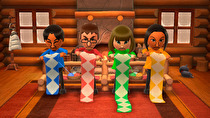 Wii Party U will not be available on the Wii U eShop when it releases on October 25, as confirmed by a Nintendo of Canada representative. The $50 retail bundle, which includes a Wii Remote Plus, will be the only way to get the game, at least for the forseeable future.
While the representative we spoke with could not confirm this, this likely extends beyond the Canadian borders since the only "Intend to Buy" Club Nintendo survey for the North American version was for the retail copy. The game was also absent from the regular Nintendo of Europe eShop press release this week.