Some heavy hitters from the Wii's hey-day will now be cheaper to purchase.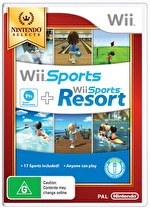 A selection of older Wii titles will be re-branded and reduced in price in Australia and New Zealand from November 7.
The games that will be included are, Mario Kart Wii, Super Smash Bros. Brawl, The Legend of Zelda: Twilight Princess, Super Mario Galaxy and Wii Sports + Wii Sports Resort (2 games on 1 disc).
The range of games will be branded with the Nintendo Selects branding that has appeared elsewhere in the world already. The games will all be priced at AU $49.95 and NZD $59.95.