Zelda fans won't be able to resist this GamePad.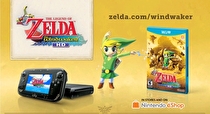 A new Zelda: The Wind Waker HD-themed Wii U will be hitting store shelves soon. This hardware package will include a Wii U GamePad decorated with Zelda-inspired artwork, similar to the Zelda 25th Anniversary Limited Edition Nintendo 3DS.
This information comes from a leaked video from Nintendo, which details The Legend of Zelda: The Wind Waker HD's Hero mode, as well as shows an image of this new piece of hardware.
It's likely, though unconfirmed, that this hardware is part of the rumored Wind Waker HD Hardware bundle that we reported on earlier this week.
Further details are currently unknown, and the video has since been removed.