No word on the Wii U bundle.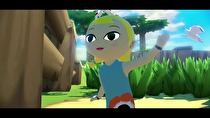 Nintendo revealed that The Legend of Zelda: The Wind Waker HD will release in North America on October 4.
The announcement came as part of a press release for the ongoing The Legend of Zelda: Symphony of the Goddess concert tour. There was no mention of the recently announced special edition Wii U bundle teased last week that will ship with a copy of Wind Waker HD.