European and Japanese Mii Plazas are bursting with new content!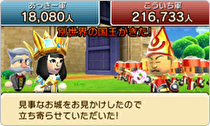 Japanese and European 3DS owners can now enjoy a complete overhaul of the StreetPass Mii Plaza as part of the 6.0 system update, which includes four new games and two new puzzle panels, in addition to other features photo filters and save data backup.
The new games have been made available for purchase in the new Mii Plaza Shop. They are as follows:
StreetPass Squad - A role-playing game similar to Find Mii (known as StreetPass Quest in Europe), but takes place in space. Developed by Good-Feel Inc.
StreetPass Garden - A gardening sim in which the player grows flowers and decorates to become a master gardener. Developed by Grezzo.
StreetPass Battle - A strategy game based in the feudal era where you build an army to battle other generals. Developed by Spike Chunsoft.
StreetPass Mansion - A paranormal investigation title, in which the player must solve the mystery of a haunted house by interacting with characters and battling enemies. Developed by Prope.
Individually, each of the games cost £4.49/€4.99. Users may opt to purchase the combo pack of all four games for £13.39/€14.99, but the combo pack can only be purchased if the user has not already bought one of the games. By progressing in these games, players can win up to 99 new hats, as well as Plaza Tickets that can be spent on Mii accessories at the unlockable Exchange Booth.
On top of all this, four new panels have been added to the Puzzle Swap application: The Legend of Zelda: Skyward Sword, Xenoblade Chronicles, New Super Mario Bros. U and one depicting several Nintendo Princesses.
Some 3DS owners in Europe have reported stability issues after downloading the system update, with crashes occurring in the StreetPass Mii Plaza app. We will update you with more information as this develops.
UPDATE: Nintendo has confirmed that they are looking into the purported crashing issues with the 6.0 update. A Nintendo UK representative told Eurogamer: "We are aware of some reports of technical difficulties which are occurring and are currently investigating the situation."