Could this be the return to form Sonic needs?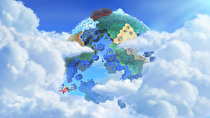 IGN has released the first trailer for Sonic Lost World, which shows the Blue Blur running through Green Hill Zone themed stages. The stages are broken up into floating platforms, reminiscent of Super Mario Galaxy. Also seen are the new enemies that Sonic will be facing in Lost World, as well as the classic roster of tiny cute animal life who Sonic seems to be protecting.
Sonic Lost World is slated for release later this year, and is exclusive to Nintendo platforms. The game was originally announced during a recent Nintendo Direct.
This looks like it could be a nice return to form for Sonic, and it appears that there is a mixture of both 2D and 3D platforming. Unfortunately we still don't know whether or not any other Sonic cast members will appear in the game. Check out the trailer below.