Truly, Nintendo and EA have an unprecedented partnership.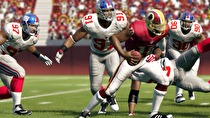 The Madden series will not be appearing on Wii U in 2013, according to an EA Sports representative.
After speculation that the system would miss out on this year's Madden NFL 25, it is now confirmed that the series will skip Nintendo platforms for the first time since 1991.
Last year, a version of Madden NFL 13 came out for both Wii and Wii U. The Nintendo 64, GameCube, and Wii all had versions of Madden throughout their lives. In 2011, the 3DS launched with a version of Madden, and after that, EA confirmed that the series was not appearing on Nintendo's portable again.
The official statement from EA Sports is: "We will not be releasing a Wii U version of Madden NFL in 2013. However, we have a strong partnership with Nintendo and will continue to evaluate opportunities for delivering additional Madden NFL products for Nintendo fans in the future."