Some people get chocolates on Valentine's Day. Us? We get new Pokémon.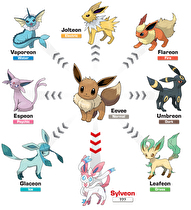 Sylveon, a new evolution of Eevee, is a brand new Pokémon coming Pokémon X and Y this October.
Eevee, a normal-type Pokémon first introduced in Pokémon Red and Blue, has a wide variety of evolutions. This marks Eevee's eighth evolution. Previous forms were achieved through various means, including providing Eevee a particular Stone. Eevee was previously able to evolve into Vaporeon, Glaceon, Leafeon, Umbreon, Jolteon, Flareon, and Espeon.
Pokémon X and Y are scheduled to ship worldwide this October.