Special memory cards caused the short supply.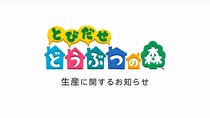 It is not uncommon for Japanese companies to apologize for supply shortages of their hot-selling product (they sometimes even stop selling such a product), but it may be unprecedented to publish a movie where the president apologizes for it.
Nintendo recently issued a document and movie online that apologize and explain to customers the reason for the shortage of retail copies of Animal Crossing: New Leaf, which has been outselling every other game in Japan, including Call of Duty: Black Ops II, since it was released on November 8.
The document is pretty short and formulaic. After an apology, it briefly explains the reason for the shortage is that the game is selling more than they expected, and special memory cards used for the game are of small availability and cannot be resupplied soon. It concludes by asking customers wanting Animal Crossing to wait for a while.
The video, featuring Nintendo President and CEO Satoru Iwata, is about nine minutes long and similar to a Nintendo Direct "Mini." Iwata, in his ordinary dark three-piece suit, speaks to the viewer (however, in this serious video, the polygonal head did not show up), explaining the situation in detail. As you may expect if you have played Animal Crossing on GameCube, New Leaf also requires a large save space for recording the data of houses and their interior and the entire village. For this reason, a retail copy of New Leaf, unlike all the other 3DS games, contains a memory chip called SLC-NAND, which enables the game to record a large amount of data quickly. SLC-NAND is not a major type of NAND and its supply is, therefore, limited. Nintendo arranged for SLC-NAND and its controller chip well in advance, but New Leaf has been selling much better than expected, making them in short supply even though Nintendo got them before the original appointed date. Iwata is afraid that this situation will not improve soon because it generally takes months to obtain newly ordered semiconductors and they cannot use memory, which would be otherwise used for other 3DS games (for the reason mentioned above).
In the latter half of the video, Iwata explains some ways to obtain a digital copy of New Leaf, including buying a download card (which are also in short supply), and through the 3DS XL bundle pack, which starts shipping in mid-December.
Finally, Iwata reassured those Animal Crossing fans who have not gotten the game yet that special items scheduled to be digitally distributed for a limited period will be made available again after the shortage is solved, as will special items available in the convenience store 7-Eleven.