Also, learn about the roots of the careers of both Game Center CX's Arino and the Nintendo president.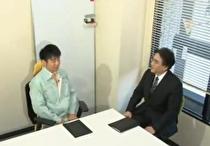 Satoru Iwata mentioned his interest in making video games once more, but says it would be an inconvience for many people involved. This and more he mentioned in a Q&A session on the Game Center CX special, which aired after the Nintendo Direct conference.
As a reply to Arino Shinya's question, touching on this very issue, the Nintendo president said the following: ''If I had the time, I would love to. If I put aside my duties as company president to work on games, I believe it would inconvience many people. I am resisting.''
''What if you spent an hour every day making an Famicom-class game?'', asks Arino as a follow-up. ''Games can be purchased as online downloads now. They create new opportunities. A single individual can then create and release their own games. Yes, it may be my chance.'', concludes Iwata.
This is not the only issue which is brought up in the coversation however. Topics include Arino's and Iwata's first encounters with video games, how Game Center CX came to be and insight from the president about why Famicom games were so punishing back in the day. Iwata also talks about why he entered game development in the first place and mentions how his parents weren't too found of the idea. ''The first company I worked for was HAL Laboratory. It was a tiny company. When I began there, I was one of only five workers. So my parents were vehemently opposed. For about half a year... my father didn't speak to me. Although we did argue.''
After the conversations conclude, Arino Shinya and Satoru Iwata enjoy themselves with a small Balloon Fight challenge. Their goal is to collect 20 balloons in a row, so that an orange one will appear out of nowhere. Once again gives Iwata insights about the development of the title and you might learn a secret that you do not know.
You can find the full Game Center CX translation in video form here below.