Monochromatic adventuring awaits!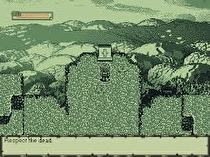 Two Brothers, a retro-styled action role-playing game, is coming to the Wii U eShop in 2013, developer Ackkstudios announced this week.
Unveiled for various platforms earlier this year, the game received funding through Kickstarter, enabling Ackkstudios to greatly expand the scope of the project. The Wii U port is currently in its early stages, following the team's recent approval from Nintendo to become a certified Wii U development house.
Taking influences from old Legend of Zelda titles and Secret of Mana, Two Brothers is a top-down RPG in which the player, as intrepid explorer Roy Guarder, must embark on a quest to bring color to the monochrome world. The game has a distinct visual style resemblant of graphics on the Game Boy, as well as plenty of tongue-in-cheek writing.
In this announcement, Ackkstudios revealed that they were also considering bringing their second project to Wii U, which has been described as an "ambitious modern 3D RPG." Platforms for this project are still being ironed out, but the developer reportedly stated that it is even contemplating making it a Wii U exclusive. This unnamed game will make its first official showing at PAX East next March.