Criterion's sandbox driving game will hit Wii U sometime next year.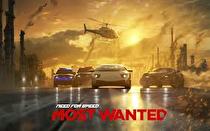 Upcoming open-world racer Need for Speed: Most Wanted has been announced for Wii U by publisher Electronic Arts.
While no information about the Wii U edition's feature set was provided, EA did confirm a 2013 release date, several months after the versions on rival systems.
Most Wanted, the second entry in the series developed by Burnout creator Criterion Games, is pitched as a re-imagining of the game of the same name, which was released on Nintendo GameCube, among other platforms, in 2005. Players can freely explore the large, sprawling city of Fairhaven and compete in races where, instead of following a determined course layout, they make their way to the finish line on a route of their own choosing.