The new Wii bundle will appeal to sporting types.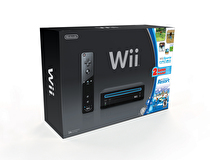 A new Wii bundle is being released to US stores at a suggested retail price of $129.99. The bundle will replace the existing bundle which includes New Super Mario Bros. Wii and a music CD at the $149.99 price point, and will include Wii Sports and Wii Sports Resort on a single disc.
The new bundle includes a black Wii console and both a black Wii Remote Plus and Nunchuk.
The new Wii bundle is on its way to store shelves now. Nintendo expects the bundle to be widely available by October 28.