Now U too can enjoy the Power of Two.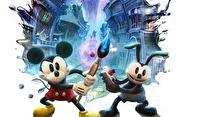 Disney Epic Mickey 2: The Power of Two will come to Wii U, Disney Interactive confirmed at the most recent Nintendo Direct.
Developed by Junction Point, The Power of Two, which will also be released on Wii, sends Mickey Mouse on another adventure through Wasteland. This time, Mickey is accompanied by Oswald the Lucky Rabbit, who can be controlled by a second player for cooperative multiplayer gameplay.
Unique to the Wii U version is GamePad functionality. The controller will display a real-time map that shows waypoints to the player's mission objectives. Additionally, the screen can be used to draw in sketches, which will have various effects within the game world.
Epic Mickey 2 is one of many titles scheduled for release some time during the Wii U launch window.