This will be the last of its kind for North American users.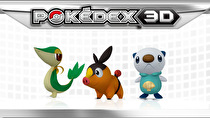 Pokédex 3D will receive a major update on August 31 in North America.
The update unlocks all of the Pokémon normally only accessible using special AR markers, including Coballion, Terrakion, Victini, Virizion, Reshiram, and Zekrom. In addition, the game unlocks every other Pokémon the player hasn't obtained, even those normally not exclusive to their game (like certain Pokémon forms).
When such an update was released in Japan earlier this year, the intention was to make sure the Pokédex was complete before the service goes offline in anticipation of Pokédex 3D Pro. Similarly, Pokédex 3D will be taken off of the eShop on October 1.