The formerly Midway-made Wii party series is coming to Wii U later this year.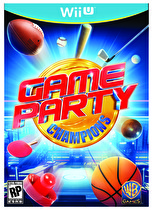 Game Party Champions is coming to Wii U later this year. Published by Warner Bros., the party game's announcement also comes with a picture of the game's box art, which features the same look as the Ubisoft box art revealed earlier.
The fourth title in the Game Party series, which began on Wii in 2007, Champions is being developed by Phosphor Games, who also worked on the Space Pop game in Kinect Adventures. The first three Game Party games, the last of which came out in 2009, were developed by FarSight Studios, who more recently created The Pinball Arcade for various platforms.
Game Party Champions will contain several modes: Quick Play, Story Mode, and Party Mode. The Party Mode features players equipped with Wii Remotes griefing the GamePad-wielding player. Some of the included sports and games are ping pong, skill ball, table hockey, and hoop shoot.
The official line is that Game Party Champions is coming this holiday season. There is no mention of a launch day release. Warner Bros. will be publishing Scribblenauts Unlimited and Batman: Arkham City Armored Edition for the Wii U at launch.