Amazon and Target leak the Wii U game cases.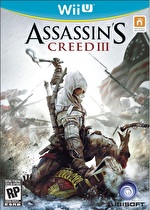 The first images of a Wii U game case have been leaked to the internet by Target and Amazon. The case features a blue curve across the top, reminiscent of the GameCube case designs. Beneath the curve is a yellow bar, which doesn't appear to have any color significance in relation to the Wii U console or GamePad.
The only listed titles to show this design were those developed by Ubisoft, who have confirmed the cover art as legitimate.
A secondary image for Assassin's Creed III on Target's listing also reveals that the case will be made of light blue plastic, as opposed to the Wii's white and GameCube's black cases.