Nintendo's 8-bit Summer may be over, but we still received a few games.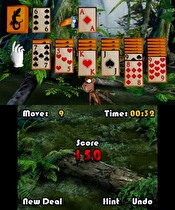 While significantly less content than the past few weeks, Nintendo still managed to deliver both a 3DS eShop and DSiWare game this week.
3DS eShop Games:
3D Solitaire - $2.99
Play solitaire over beautiful 3D environments included with 3D Solitaire or unlock the feature allowing you to use your own photos as the game's backdrop. 3D Solitaire allows you to either play on the 3D screen or on the touch screen with the stylus.
DSiWare Games:
The Lost Town - The Jungle - $4.99
A meteorite landed in the Amazon Jungle causing the villagers and animals to go insane. Your job is to survive while also trying to locate the meteorite so that you can save the people.
eShop Sales:
Super Mario Land - $2.99 (normally $3.99)
Join Mario on his first Game Boy adventure through the kingdom of Sarasaland. Your goal is to save Princess Daisy from a mysterious alien. Currently, you can get the game at 25% off. This sale will end on Wednesday, August 8.