The Wii is not in stock at major internet retailers such as GameStop.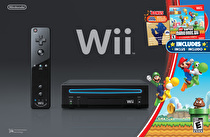 Update: Wii is back in stock at the websites for Target and Best Buy.
Brand new Wii consoles are currently not in stock at a number of popular online retailers including Best Buy and GameStop.
On the websites for Target and GameStop, the Wii is listed as backordered, and Best Buy has disabled the shipping option for Nintendo's home console. However, all three retailers show the Wii as in stock at the majority of their brick and mortar stores.
New Wii consoles are also not available directly from Amazon. Orders for the Wii can still be made at Amazon, but other retailers are fulfilling them.
Since last October, Nintendo has bundled the Wii console with New Super Mario Bros. Wii and a Super Mario Galaxy music CD for a retail price of $149.99. The Wii's recent lack of stock could be sign that this holiday bundle as Nintendo described it upon release may be in it's final days. The Wii sold nearly 95,000 systems last month. In June 2011, the Wii sold 273,000 units after a May price drop. Nintendo World Report will continue to keep on eye on the situation.