Prepare for Dragon Quest overload.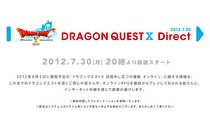 Nintendo will be holding a Dragon Quest X Direct in Japan next week on Monday, July 30 at 8 p.m. JST (7 a.m. ET, 4 a.m. PT in North America). The event will highlight various aspects of the game including general gameplay and online play. Dragon Quest X Direct is being broadcast on Nico Nico Video, Ustream, and Nintendo of Japan's Direct homepage.
Dragon Quest X is set to release in Japan on August 2. Gamers who wish to purchase the game have a three different options – the stand alone version for 6,980 yen, the bundle set with 16 GB USB flash drive for 8,980 yen, or the console bundle which includes the game, 16 GB USB flash drive, black Wii console, black Classic Controller Pro, and a 1,000 yen Nintendo prepaid card for 25,000 yen.