Purchase digital copies of NSMB2 or Oni Training and get bonus goodies from Nintendo.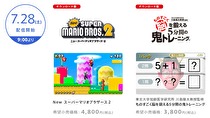 Nintendo is hosting a campaign for users who purchase the digital versions of either New Super Mario Bros. 2 or Oni Training for the Nintendo 3DS in Japan.
Players who purchase the digital versions from the Nintendo eShop or from a retailer will be eligible to receive a 3DS Virtual Console version of Donkey Kong: Original Edition and 20 additional Club Nintendo points for each game. Donkey Kong: Original Edition is an official ROM hack of NES Donkey Kong that adds in the missing cement factory level from the original arcade version. Until now, it was only released in Europe, pre-installed on special Super Mario Bros. 25th Anniversary edition Wiis.
If both games are purchased digitally, Nintendo will give the player 20 more Club Nintendo points. The campaign starts on the launch day of the two titles, July 28, at 9 a.m. and runs until September 9 at 11:59 p.m.
New Super Mario Bros. 2 will retail for 4,800 yen and Oni Training will have a suggested retail price of 3,800 yen. While games in Japan usually sell for less than the suggested retail price, retailers have yet to show prices for the digital versions of these upcoming titles.