Danny hosts his first Famicast. Are there any objections?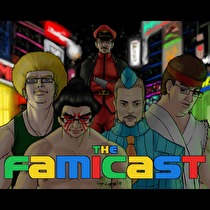 Subscribe via iTunes (Please rate and review, too!)
Man down, man down!!
Not to worry. With JC out the country (of Japan), Danny takes the reigns to guide the Famicrew to victory!
Daan finally gets hold of the full version of Time Travellers for 3DS and gives his impressions of this time-bending genre-defying game. Continuing his demo-to-full-game theme, the self-styled rhythm game master talks about Taiko Drum Master on 3DS. Find out if its hit-or-miss (sorry)! Danny goes retro with his new business as he pops in the GameCube classic Eternal Darkness, then follows up with a full Kirby retro throw-down with the new Dream Collection on Wii. Is it better than the Mario collection? I think you probably can guess the answer to that. (hint: this has more than one ROM on the disk)
Keeping with the GameCube classics streak, Minoru plays through Pikmin 2, one of his favourite games. He swears a lot less this time for some reason.
After that, Danny gives his eulogy to SpotPass TV, probably the only non-Japanese person to do so, followed by a run down of the "Chotto" Nintendo Direct focussing on Oni (Demon) Training that has just come out in Japan. Life in Japan tries to find out just how accurately the Phoenix Wright games portray the Japanese legal system. It sounds like a joke, but the results may surprise you!
The crew then wrap up the show with some of your great letters, which were taken from our awesome forum thread right here. Drop by if you want to post your own questions. We answer all SFW ones, and sometimes the NSFW ones too...
So put on your shampoo hat and make sure have the exact change for another ride on the Famicast express!
This podcast was edited by Danny Bivens.

Music for this episode of The Famicast is used with permission from 8 Bit Weapon. You can purchase their music and shirts from their website 8bitweapon.com

Additional music for this episode of The Famicast is copyrighted to Nintendo, and is included under fair use protection.