Nintendo 3DS gets an inflation.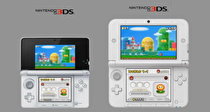 The Nintendo 3DS redesign is coming to North America, Japan, and Europe, on August 19 in North America and July 28 for both other regions.
The upsized version, called the Nintendo 3DS LL in Japan, boasts a 90% larger viewing area, with a bottom screen increased to 4.88 inches wide.
The new version will feature an improved battery life of 6-10 hours, and will sell for 18,900 yen on July 28. The system will cost $200 in North America while the price in Europe is currently unknown. It comes pre-packaged with a 4GB SD card.
In Japan it will come in three color variants, white, red and black, and silver and black. In North America the system will be available in two colors, red and blue. In Europe the system will be available in blue, red, and silver.
We'll post more information the instant it becomes available.
UPDATE: In Japan and Europe, the new model of the handheld will not come with a power adapter with the intention of recycling existing cables from previous DS iterations, but there will be the option to purchase the cable separately if need be. The North American version will come with the adapter included in the box.