The industry veteran talks about the recent convention and a trend he deplores.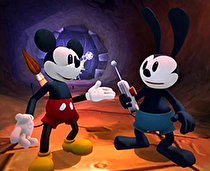 In an interview posted today by GamesIndustry International, game developer Warren Spector relayed some of his thoughts on the tone of the recent Electronic Entertainment Expo, as well as his studio Junction Point's upcoming sequel, Epic Mickey 2: The Power of Two.
While he noted that he was preoccupied for much of the convention this year, Spector detailed several qualities of the show that stuck with him.
"This is the year where there were two things that stood out for me. One was: The ultraviolence has to stop. We have to stop loving it. I just don't believe in the effects argument at all, but I do believe that we are fetishizing violence, and now in some cases actually combining it with an adolescent approach to sexuality. I just think it's in bad taste. Ultimately I think it will cause us trouble."
Spector, who mentioned he left developer Ion Storm and Eidos in 2004 after becoming disconcerted with the violent tone in the games being made around him, noted his appreciation of being able to fit in at Disney.
"We've gone too far. The slow-motion blood spurts, the impalement by deadly assassins, the knives, shoulders, elbows to the throat. You know, Deus Ex had its moments of violence, but they were designed—whether they succeeded or not I can't say—but they were designed to make you uncomfortable, and I don't see that happening now. I think we're just appealing to an adolescent mindset and calling it mature. It's time to stop. I'm just glad I work for a company like Disney, where not only is that not something that's encouraged, you can't even do it, and I'm fine with it."
Spector's other observation: Games have become secondary to the message of the conference.
"The second thing I noticed was that the most interesting part of the press conferences had nothing to do with games. When the games are the least interesting part, there's a problem. When did the game conference become about interfacing with Netflix? I just worry a little bit. The thing that's ironic is that I feel like we really are in a golden age, in a weird sort of way. Nobody knows what the future of games is. Nobody. At a time like that Notch can come along and do Minecraft, and Chris Hecker can finally do his incredible party spy game, and Jon Blow can do Braid, and I can do a triple-A Mickey Mouse game—anything is possible.
"Pretty much all I saw at E3 was, 'Well, we're going to do what we always did, but bigger and bloodier! And we're gonna talk about Netflix!' I just don't get it."
Spector's latest game, Disney Epic Mickey 2: The Power of Two, was shown at the conference, and he touched upon the feedback they had received from the demo.
"I wouldn't say I was surprised [by the feedback received]. I was really pleased to hear—not everybody, you're never going to please everybody—I was surprised at how many people told me either they loved the first game, but the camera was a problem, or they wanted to love the first game but couldn't because there were three or four things that bugged them, and almost without exception the people I talked to said 'Wow, you guys addressed all of the problems.' That was really gratifying to hear, because that's certainly one of our big goals.
"... You never know how people are going to respond to what you're selling at E3. I was genuinely worried that the boss battle that we showed—I just wanted to unask some questions. I wanted to show a 2D platform level inspired by a real cartoon because people were asking me all the time, 'Are those coming back?' So I wanted to be able to say yes, here they are, you can play one. And the other was 'Are you going to have boss battles?' and is the whole choice and consequence thing going to happen even in the boss battles. I wanted to show that off too. But that boss battle, it comes sort of midway through the game, and it's really frenetic, and I worried that people would find it too frenetic given that they were dropping into the game for the first time, and nobody said that. Everybody really got off on it. I breathed a sigh of relief. That was really gratifying.
"We're deep in alpha now, which means we're doing daily bug triage, and tuning the gameplay. There was one day when for some reason we had a big spike in the bug count for some reason, and everyone was really glum. I said, Don't worry about it, everything's going to be fine, but they were glum. So I said, Look at the game we just reviewed today. It doesn't sound like any other game, it doesn't look like any other game, it doesn't feel like any other game. People can say they don't like it, but you can't say we did something that just went along with the crowd. For me, that's huge. At E3, you've got 15 seconds to stop somebody who's running from one meeting to another and get them to notice what you're doing. You've got to do something that stands out. If people don't like it, they don't like it, I don't control that. But we do control doing something unique, and we've done that, and I'll take that to the bank."