You and your 11 roommates are about to get the best news possible.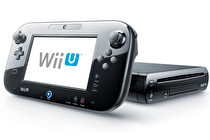 The Wii U system will support up to 12 user accounts per device, according to NIntendo Senior Director of Corporate Communications Charlie Scibetta.
In an interview with GameTrailers, Scibetta said "Nintendo's take on online gaming is Miiverse, and it's a way to be social and to discover things online. You can certainly do multiplayer online, but we're really focusing on community and sharing and discovery because that's something that's new and unique and fun, we think, that Nintendo's uniquely qualified to bring. There's actually twelve different accounts you can have on any one piece of hardware, so if you have a different account from me, you might have different games featured on there, different friends and when you turn on the Wii U it can immediately go to your profile and then you'll have an experience that's tailor made for you."
Later in the interview, Scibetta mentions the potential existence of Friend Codes, stating "I think we're pretty much done with that, we've moved onto the account system." That conflicts some with the recent Nintendo E3 analysts meeting where it was revealed that Friend Codes would still be around in some way, even if they were far easier to deal with. We will report on this as more news breaks regarding the potential death knell of the dreaded Friend Code.